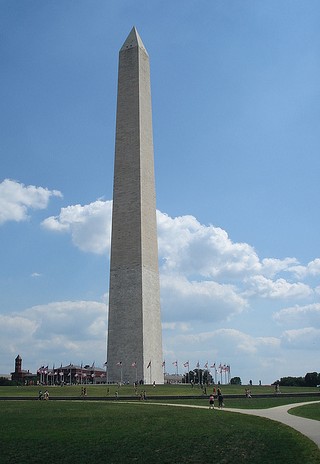 Donella Meadows and her Limits to Growth co-authors will be among the 100 "climate heroes" recognized this week at the inaugural Atlas Awards. The event aims to honor recipients for "their leadership in influencing Americans towards more caring and sustainable lives that could ultimately stabilize Earth's climate." It will feature a keynote address from Boyd Cohen, co-author of Climate Capitalism: Capitalism in the Age of Climate Change.
The Atlas Awards are being hosted by climate activist Priscilla Rich and award-winning filmmaker Dave Gardner. "I have been inspired to find so many people doing exemplary work in response to climate change," Rich explains. "It's important to thank them, and to inspire more people to get involved. We need everyone engaged, not just the professionals."
The award ceremony will take place on the National Mall in Washington DC this Sunday, October 7. The event is open to the public, and all are encouraged to attend. For more information on the ceremony, or to view the full press release, visit the Atlas Awards website.
If you are unable to attend the event, you can read DMI's acceptance speech for Dana below.
---
Atlas Awards Acceptance
The Donella Meadows Institute on behalf of Donella Meadows
The Donella Meadows Institute is honored to receive an Atlas Award in commemoration of Dana Meadows's work on The Limits to Growth. Dana spent her life researching, writing, and educating in pursuit of a more equitable and sustainable society.
After The Limits to Growth created, in Dana's words, "a worldwide burst of media foreboding," she reflected on the book's intentions:
We didn't think we had written a prediction of doom. We had intended to issue a warning, but also a vision. We saw, with the help of the computer, not one future but many, all possible, some terrible, some terrific.
In the thirty years between the publication of The Limits to Growth and her death, Dana Meadows witnessed our continued commitment to growth despite increasing warning signs. But she never lost the hope that we could achieve a healthier, more promising future.
Dana emphasized that growth is not fundamental to the human condition. She wrote:
As yet no corrective processes have been strong enough to stop [growth]. But there are signs of such processes. The good news is that some are coming from human ingenuity and restraint. The bad news is that some are coming from environmental breakdown…There is too much bad news to justify complacency. There is too much good news to justify despair.
Her words are just as true today. We haven't achieved a sustainable society, but that's no reason to stop trying. As Dana wrote in her final Global Citizens column:
There's only one thing I do know. If we believe that it's effectively over, that we are fatally flawed…that each of us is too small and helpless to do anything…well, then yes, it's over. That's the one way of believing and behaving that gives us a guaranteed outcome.
Personally I don't believe that…We are not helpless and there is nothing wrong with us except the strange belief that we are helpless and there's something wrong with us. All we need to do… is to stop letting that belief paralyze our minds, hearts, and souls.
On the 40th anniversary of The Limits to Growth, let's not forget Dana's words. Thank you.
Image credit: TravelfusionUK via Flickr