The Season of Thanks
Posted By: Sarah Parkinson, Published: December 3rd, 2013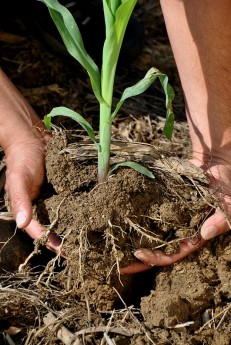 Looking back through our archive of Donella Meadows's writing, it's not hard to find examples of thanks. Dana was thankful for the community and environment around her, sentiments which are echoed over and over in her letters and columns.
In November 1994, Dana wrote, "On a farm I can really put my heart into a festival of harvest and thanksgiving. I think of the soil, the sun, the rain, the beautiful growing plants, the fun of garden work, and the freezer and root cellar filled up for the winter—and gratitude comes easy." Two years later, she ended a letter with a similar sentiment: "There is so much to be thankful for always on a farm, and especially, it seems, on this one. As usual, nearly everything on the table will have been raised right here. The place is full of lovely animals and lovely people. And life just gets more and more interesting!"
Perhaps Dana's most memorable thanks is from a column she wrote in 1989.